RSVP: Adelaide Zero Project

Register here if you have received an invitation to participate in the Adelaide Zero Project Charter Development Panel.
People's Policy
The new frontier of democracy!
Its done!
The People's Policy on Childrens' Wellbeing is complete and has been launched.
The policy can be found here..
The focus: Children's Wellbeing
What needs to happen to increase the number of children living safely at home and avoid the need for them to be removed from their parents and family? What different policies and or initiatives should governments implement? What can communities and individuals do?
We want SA to be the best place for our children. We want them to live safely and happily in their own homes and communities.  However, unless more is done to support families and communities (to better care for and protect children and young people) this is not possible.
In South Australia, almost 3,500 children live away from their family in care and this number has been steadily rising every year.
1 in 4 South Australian children are the subject of at least one notification of child abuse or neglect by the age of 10. This is much higher in some communities and sadly for Aboriginal communities the figure is even more alarming.
Our existing approach is not working.
The consequences are serious both for our children and our society; with young adults who were taken away from their families experiencing lower levels of employment, increased rates of convictions, increased rates of homelessness and increased rates of substance abuse.
A coalition of non-government and philanthropic organisations have joined forces to lead an innovative worldwide first for democracy; focused on raising awareness and political commitment to reducing the number of children entering the child protection system.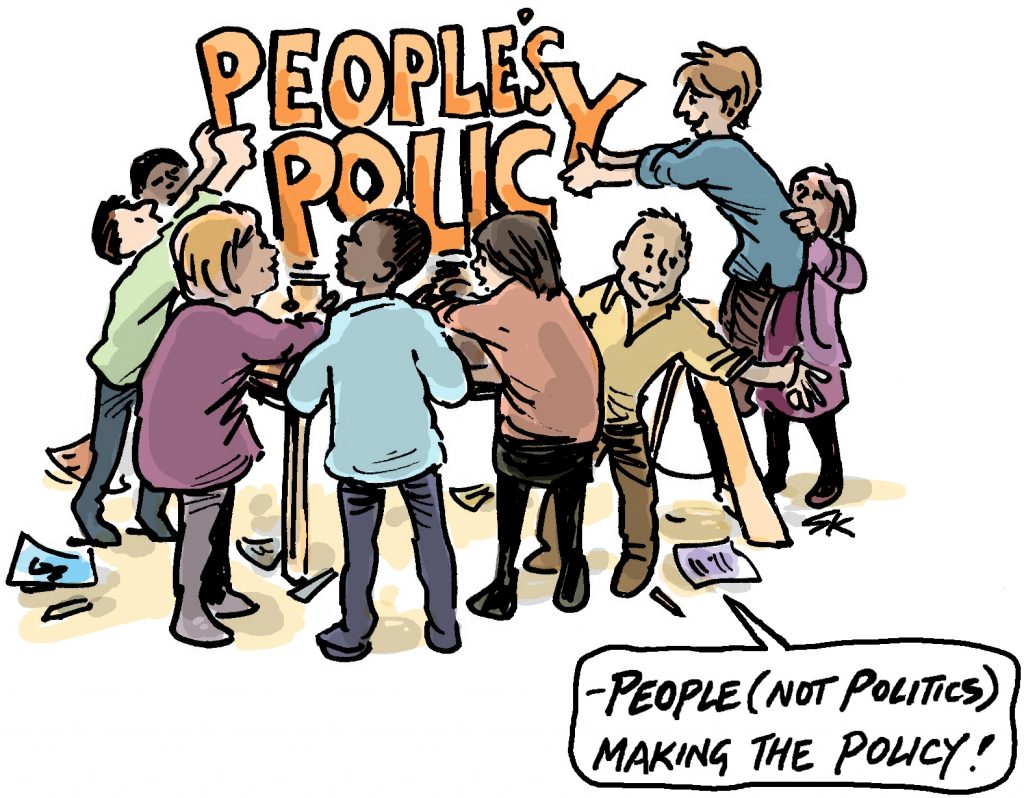 South Australian Council of Social Services, The Wyatt Trust, Uniting Communities, Community Centres SA and the Aboriginal Family Support Service will work with other NGO's and 30 'Everyday' South Australians (The People's Panel) to develop an election policy on child wellbeing. The policy will be provided to all political parties in the lead up to the March 2017 election.
The People's Panel will seek to explore the issues, understand the evidence and will be briefed by experts in the field as they develop their policy,
All South Australians will then have the opportunity to have their say and will be asked for their feedback on the draft concepts before they are revised and finalised by the People's Panel.
The Peoples' Policy on Childrens Wellbeing will be presented to all political parties in November 2017.
Do you want to run your own People's Policy? 
We are excited by this method and want to share it so people can use it far and wide! 
If you are interested in the process and learning more about how to run a People's Policy please email us direct or register your name here and we will be in touch. 
An Inclusive Process…
This process is about moving beyond politics and getting the best system and supports in place to protect our children. We want to move beyond combative politics where arguments and debate occurs sometimes just for the sake of being different.
As a consequence, we want to bring representatives from all parties together as part of the process. To work together to develop the best possible approach to keeping our children safe.
The coalition partners have written to the following political parties to seek their involvement in the process.
Premier of South Australia, Hon. Jay Weatherill (Labor)
Leader of the Opposition, Hon. Steven Marshall (Liberal)
Australian Conservatives, Hon Robert Brokenshire
SA Best, spokesperson on child wellbeing, Rebekha Sharkie
The Greens, Hon Mark Parnell
Dignity for Disability, Hon Kelly Vincent
A copy of the letter sent to Premier Jay Weatherill can be found here.
Who are the coalition partners?
Interested in learning more about the coalition of philanthropic and non government organisations that are spear heading this project? You can read more about some of them here:
Why is democracyCo involved and who are we?
DemocracyCo supports people, governments and organisations to develop robust policy.
These processes involve the sharing of facts, evidence and information from experts and people who work in the field to help people develop high quality policy.
DemocracyCo are experts in facilitation and supporting communities to develop policy.
Democracy Co are supporting the coalition by running the process on their behalf and with their authority and guidance.
Funding and Support
Making the People's Panel on Child wellbeing happen is taking the efforts and contributions of a wide range of organisations and individuals.
Base funding is being provided by the partner organisations listed above. As this is a trial of a new innovative approach to democratic process, democracyCo is providing the majority of project planning and facilitation services in kind. In addition, some additional funding has been provided by a philanthropic organisation that has chosen to remain anonymous. This project is not being funded by local, state or federal Governments.
The funds raised are being used to cover the honorarium for the Panel participants, provisions for the meetings of the Panel, materials for the Panel and approximately one quarter of services being undertaken by democracyCo.
We want to thank the following individuals and organisations who are also providing significant in-kind support to the Panel and are making this project possible;  
Participation Plus
Don Dunstan Foundation
What is People's Policy?
Our governments are caught in a bind. They know the challenges facing Australia are urgent and complex.
But they can't seem to find a way forward. As George Megalogenis has said:
Put bluntly, we don't have a plan. We know we need one, written jointly across government, business, trade unions and civil society. But we keep finding excuses to return to the trenches of our prejudice.
And that leaves the community frustrated, angry, and distrustful.
We want to create a solution that focuses on creating long-term sustainable solutions to wicked, complex problems; a solution that empowers the community, connects the diverse interests of individuals and organisations, and gives the government real, evidence-based options to work with. And we'll achieve this by turning the system inside out.
Policy by the people, for the people and provided to the political parties!
---